If you think that mood lighting is just to adjust the light and shade of the lights, then Philips' latest LivingColors LED lights will surprise you. This 16 million-coloured luminaire allows you to subtly evoke the feeling of a lazy weekend, the gray-filled home, the date of the date, and the atmosphere of the party... you will be able to The color wheel creates the light color that best suits the mood of the moment.

LivingColors luminaires contain four LEDs that can be combined to match 16 million colors by combining the brightness and color of the four LEDs.



If you feel a little hard to grasp, you can also choose a mini version of the 256 colors. The luminaire looks like a jellyfish with a hard, translucent outer casing. Since the lamp emits almost no heat, it is suitable for long-term continuous use.


The price of this luminaire is still relatively expensive. The full version of LivingColors is priced at $234 and the mini version is $125. But Philips said that if it is used for about 1.5 hours a day, the life of the luminaire can reach 8 to 10 years.

Do you believe that colors are actually alive: they are fickle, they are agile, they make springs green and green, they make autumn jewel-like blush... If you feel the color in life is lifeless then let Philips LivingColors to change it all!

Imagine how many colors a lamp will have: one? Two? Please don't wake up in your mind the memory of so-called discolored lamps that should be thrown into the garbage. They are ruined mercilessly, because in the face of LivingColors' 16 million colors, they are as boring as the 80-year-old skin. With advanced LED lighting technology, LivingColors is free to transform steplessly in these 16 million colors – just like a flowing color, you will feel the vitality of it. Moreover, you can easily nest in the sofa, and you can use the remote control to complete this transformation with your thumb!

LivingColors was designed as an oval in the glass envelope, which is nothing bad, it makes LivingColors from a luminaire into a work of art.

LivingColors uses state-of-the-art LED technology with an average power consumption of only 0.5 to 5.5 watts and is extremely durable. The remote control can switch colors and adjust white balance, light and dark. A remote control can control 6 LivingColors!




Circuit Breaker is an electrical device used in an electrical panel that monitors and controls the amount of amperes (amps) being sent through the electrical wiring. Circuit breakers come in a variety of sizes. For instance, 10, 15 and 20 amp breakers are used for most power and lighting needs in the typical home. Some appliances and specialty items (washers, dryers, freezers, whirlpools, etc.) will require a larger circuit breaker to handle the electrical load required to run that appliance.

Circuit Breaker is composed of 4 parts, Ie. , the insulating case, operating mechanism, contact system and tripping device, featuring quick make and break and free trip. The types of common circuit breaker are:

Miniature Circuit Breaker

/MCB,

Residual Current Circuit Breaker

/RCCB,Leakage Circuit Breaker,RCBO, Moulded Case Circuit Breaker /MCCB. As a largest Circuit Breaker manufacturers in china, Korlen electrical produces Circuit Breaker more than 3 million monthly.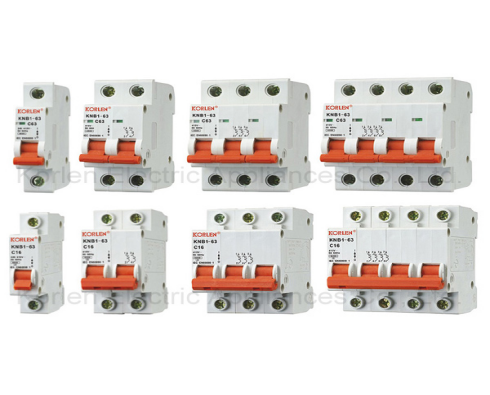 | | |
| --- | --- |
| rame class | 63A |
| Rated working voltage | 240V/415V |
| Rated frequency | 50/60Hz |
| Rated working current | 1, 3, 6, 10, 16, 20, 25, 32, 40, 50, 63A |
| Making and breaking capacity | 6000A(6~40A), 4500A(50, 63A) |
| Release type | B, C, D |
| Poles | 1, 2, 3, 4P |
| Mechanical life | 20000 |
| Electric life | 4000 |



If you have any questions,please contact with us directly,welcome to visit our factory.For inquly.please send mail directly to us.




Circuit Breaker

Low Voltage Breaker,Air Circuit Breakers,Earth Leakage Circuit Breaker,Vacuum Circuit Breaker,Circuit Breaker,Motor Breaker

Wenzhou Korlen Electric Appliances Co., Ltd. , https://www.korlenelectric.com