Silicon Labs (NASDAQ: SLAB), a leading supplier of 21ic silicon TV tuners, today announced the launch of a new line of high performance digital set-top box (STB) tuner ICs designed to reduce cable, ground and hybrid Cost, complexity and power consumption of terrestrial/satellite and IP-based STB products. Silicon Labs' new Si2144 and Si2124 digital tuner ICs help STB designers reduce board space and bill of materials (BOM) costs with excellent single-chip integration and the industry's smallest package size. The integrated loop output (LT, Loop-Through) technology of the Si2144/24 tuner family also helps reduce overall system cost and power consumption.

This article refers to the address: http://

Silicon Labs' Si2144/24 family of products provides the best digital tuner solution for the worldwide cable, terrestrial and hybrid terrestrial set-top box market, which is expected to ship more than 100 million units in the STB market this year. As the world's largest STB market, China is now a strong country in STB design and manufacturing that can meet both domestic consumption and export demand. Silicon Labs' Si2144/24 digital tuner is backed by China's leading terrestrial and wired STB system-on-a-chip (SoC) providers.

With a video tuner technology based on six generations of Silicon Labs evolution and a digital low-IF architecture validated by more than 400 million TV sets worldwide, the Si2144/24 series fully meets the performance, cost and size of STB applications. And the demand for green energy. In addition, the Si2144/24 family supports all global wired and terrestrial STB standards (ATSC/QAM, DVB-T2/C2/T/C, ISDB-T/C and DTMB).

Loop Output (LT) technology, which routes RF input signals to RF output ports for use by other devices such as traditional analog TVs, is a key functional requirement in many STB designs. The Si2144/24 IC is the smallest and most energy-efficient STB tuner chip in its class with integrated LT technology in the market, consuming less than 500 mW, which greatly reduces the overall power consumption of the STB and reduces the power supply. Design requirements for heat dissipation and system cost for multi-tuner designs.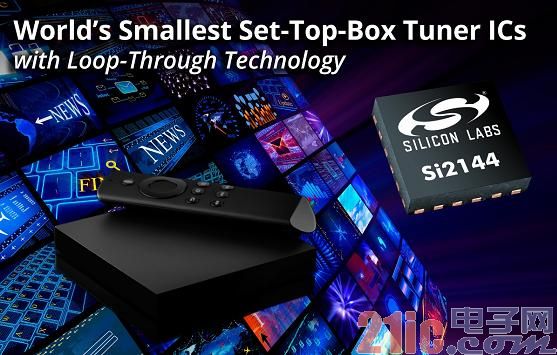 In addition to the integrated active LT technology (enabled when the STB is powered up), the Si2144/24 tuner also features "off-through" passive LT technology that continues to provide LT functionality after the STB is turned off or even removed from the power plug. Passive LT greatly reduces the standby power consumption of the STB, enabling STB manufacturers to make their products more energy efficient and environmentally friendly, and to help consumers save energy. All existing CMOS STB tuners require high-cost off-chip devices for "off-through" functionality.

The Si2144/24 chip is the smallest STB tuner available today and is available in a tiny 3mm x 3mm QFN package. This ultra-compact package combined with the smallest BOM component makes it the smallest footprint (0.86 cm2) in the market for STB tuner solutions. In addition, the Si2144/24 has the lowest BOM cost of all existing STB tuner products. Unlike other competitors' STB tuners, the Si2144/24 tuner eliminates the need for baluns at the RF input and integrates all tracking filter inductors on-chip, minimizing system cost and design. the complexity.

The Si2144/24 tuner provides better noise figure performance over the entire band and provides higher immunity without compromising off-chip filtering, such as immunity to LTE interfering signals. Thus, it provides unparalleled linearity, sensitivity and stable reception performance in a global real-world application environment. Based on the LTE immunity requirements of the D-Book specification, the Si2144/24 provides a 13dB margin, which enables the original broadcast TV picture to be clearly presented on more than 400 million TV sets worldwide, and no one returns due to LTE interference problems.

James Stansberry, senior vice president and general manager of IoT and broadcast products at Silicon Labs, said, "As a leading silicon tuner provider in the TV industry, we have incorporated years of engineering experience and six generations of proven architectural innovation into our Si2144/ Among the 24 STB tuner series, our Si2144/24 tuner provides STB manufacturers with the best balance of integrated RF performance, energy efficiency, minimal package size and BOM savings, enabling them to effectively reduce the cost of STB designs. , complexity and power consumption."

The Si2144/24 STB tuner family shares the same application programming interface (API) as all other Silicon Labs TV and STB tuner product families. This shared software API makes it difficult for STB designers to learn from global hybrid HDTVs to regional platforms and STB designs. The simple application circuit for all Silicon Labs TV and STB tuners makes the onboard design that leads to direct cost savings extremely simple and easy.

Price and availability

The Si2144/24 digital STB tuner is in volume production and is available in samples in a 3mm x 3mm 24-QFN package. The Si2144 digital cable and terrestrial STB tuner is priced at $0.74 for a 10,000-piece purchase, and the Si2124 digital terrestrial STB is priced at $0.70 for a 10,000-piece purchase. To help developers accelerate their development, Silicon Labs also offers the Si2144-A-EVB and Si2124-A-EVB evaluation boards for a retail price of $395.

Solar Flood Lights For Trees,Brightest Solar Flood Lights,Commercial Grade Solar Flood Light,100W Solar Flood Lights

Jiangmen Biaosheng Solar Energy Technology Co., Ltd. , https://www.bsprosolar.com